You want your guests to remember your event, not the traffic and parking problems getting there. Let us bring our 30 years of law enforcement and professional special events expertise to your event. Special events can create their own unique traffic issues. Whether your event is a traffic volume concern, or you are requiring street closures and uniformed traffic control, we can make that happen.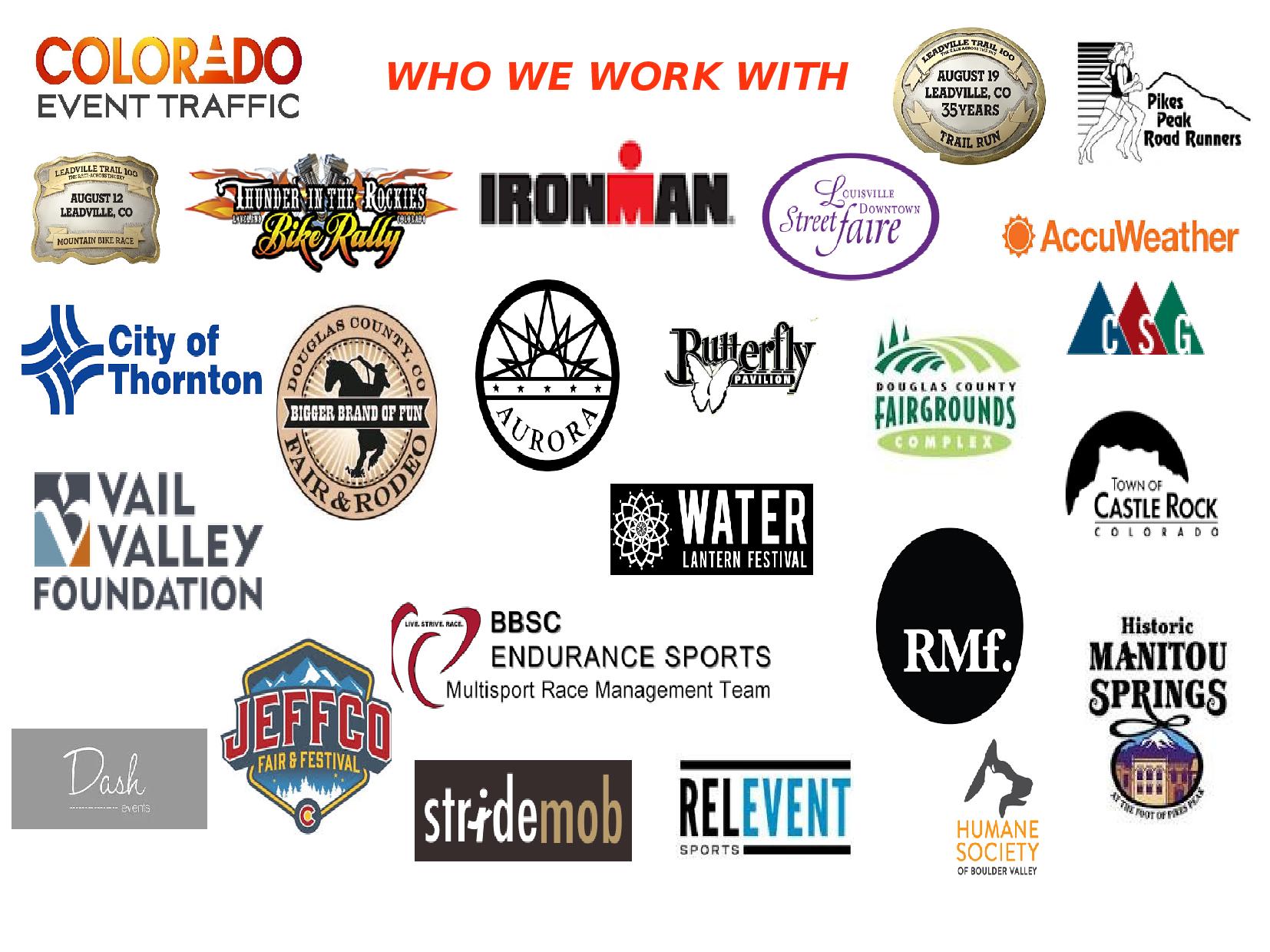 "The City of Thornton has been hosting festivals and events for the last 15 years and we have used multiple parking contractors. Colorado Event Traffic gets it right. They are very organized and vested in the success of our event. They brought their vast event experience to the table and improved our plans, creating a smooth, safe entry and exit for over 5,000 cars. Colorado Event Traffic was an asset to our operation and event."
Chris Steinke - Recreation Program and Facility Supervisor
"Colorado Event Traffic has been incredible to work with. They have a very professional staff that is dedicated to ensuring a successful and guest-friendly operation. I view them as a trusted partner for our event parking needs and venue operations."
Dexter Foxworth, Director Jefferson County Events and Venues
Colorado Event Traffic has been providing our events with traffic control devices for several years. Charlie and his staff consistently provide a friendly professional service that I highly recommend.
Paul Anderson, Event Manger – Leadville Race Series
Working with Marquee Event Solutions is one of the best decisions I have made as an event planner. Having worked with several security and event companies, I (and my clients) couldn't be happier with the services they provide. It can be challenging to find a company that has accountability, effectiveness, and professionalism and MES possesses all three of these qualities. They excel at open communication and problem solving both before and during events of various sizes and styles.
Jennifer Grathwohl - Event Director, Town of Louisville
We have used Colorado Event Traffic for two of our events. From a 300 person race to 6000. Charlie is amazing to work with. I appreciate his suggestions and his attentiveness to detail. He treats our events like they are his events. He works hand in hand with us to help make our events successful. Colorado Event Traffic is our go to partner for traffic needs.
Jeanie Brevoor - Owner, Stridemob
"Colorado Event Traffic is so easy to work with! With our events taking place on the street, barricades 100% necessary for safety but they're also the first thing that attendees see - so it's really important to us that the equipment looks nice & neat, serving its purpose without being a distraction. These guys are reliably on-time, and they come ready to go with everything we need to keep traffic moving smoothly so our attendees can just enjoy the event!"
Liz King - Owner, Dash Events
Colorado Event Traffic/Marquee Event Solutions have completely changed the feel of my events. Charlie Chicko is knowledgeable in traffic control solutions, parking, and event staffing. His staff is professional and friendly. My attendees, patrons, and police have all commented on the difference in our events since we began using Charlie and his staff. I won't do any event without them!
Jennifer Reinhardt - Event Specialist, Town of Castle Rock
Colorado Event Traffic has provided controlled, professional and organized parking services for several of our Events ranging from a few hundred people up to thousands of people including sold out shows and, Colorado's largest Motorcycle Rally Thunder in the Rockies. I know when teaming up with Colorado Event Traffic for our Events, they help contribute to our events running smoothly.
Mechelle Stanton - Event Director, Thunder Mountain Harley